YOUR COMPLETE MULTIVITAMIN WITH A HEALTHY ENERGY BOOST
Clinically tested

for over ten years and shown to increase key markers of immune health.

Formulated with potent antioxidants to support your immune system and boosted with just the right amount of caffeine to keep you locked in and focused all day long
Contains a small amount of caffeine that acts as a catalyst to enhance the effect of the nutrients
Provides an abundant supply of antioxidants your cells need to increase your energy and support your mitochondrial health
Contains optimal dosages of highly potent antioxidants including Alpha Lipoic Acid, Acetyl -L-Carnitine and N-Acetyl Cysteine that help to recharge your entire body at the cellular level
Recommended by physicians nationwide to support immune function, enhance productivity, boost alertness and increase your energy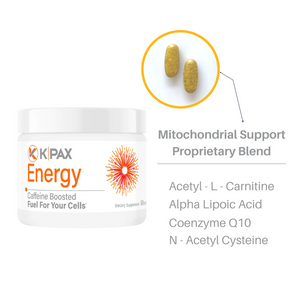 Proprietary Mitochondrial Blend
Mitochondria, commonly referred to as the "powerhouse" of our cells, are specialized structures found in almost every single cell of the human body. They act as the batteries that power our organs and muscles by converting the food we eat into energy that the cell can use. 
As we age, environmental factors like stress cause a steady reduction in the health of our mitochondria making us feel weaker and fatigued.
After several years of testing and refinement, we created a specific formula of micronutrients and antioxidants that was best able to improve mitochondrial health.
Acetyl-L-carnitine (500-1,000mg/day)
N-acetyl-cysteine (600-1,200mg/day)
Alpha lipoic acid (200-400mg/day)
Coenzyme Q-10 (100-200mg/day)