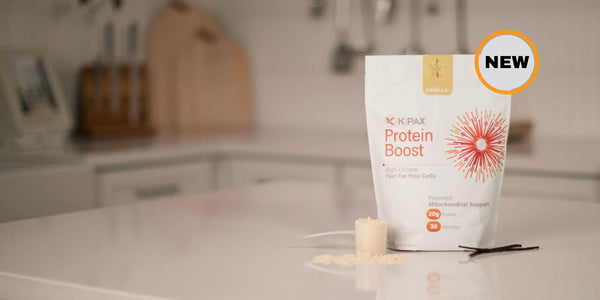 Live at Peak Performance
ONE SCOOP AT A TIME

Fuel your day with full body nutrition formulated to increase cellular energy production, strengthen your immune system and improve your digestion.
SHOP NOW
20 years of Clinical Research
We have identified 2 potent micronutrient and antioxidant formulas to support mitochondrial function, which generates the energy needed to power your body.
Cellular Energy
Increase energy production at the cellular level for better alertness, immune function and overall health.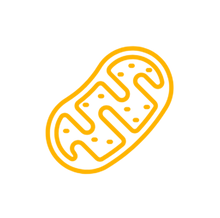 Mitochondrial Support
Reduce oxidative stress and promote optimal mitochondrial function, the "powerhouse" of our cells.

Safe & effective
Our formulas are made from pharmaceutical quality materials and manufactured in FDA-approved facilities.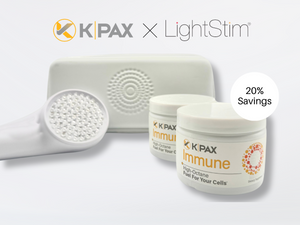 Total Muscle Recovery
LIMITED EDITION SET
Get fast relief from muscle pain with targeted red light therapy, while encouraging cell repair to reduce muscle fatigue with mitochondrial support.
SHOP NOW
what our customers are saying
The Immune Support Supplement is the real deal. It has now been 12 years and I have not even had a cold or flu. I have a newfound life.
Donna H.
By the third day, I had more energy than I can remember.  I also felt very clear headed and had no desire to eat the non-nutritional foods that often sneak into my diet.
Sandra N., age 42
I am happy to say that K-PAX Immune and Energy blends have kept me heathy and active at 79 years old. My twin brother's daughters say I look 10 years younger than their father. I contribute this to K-Pax.
Ted C.
Immune Support + Energy Support
Alleviating Fatigue in Breast Cancer
Fatigue is the most common and debilitating symptom experienced by patients suffering from cancer. Approximately 30% of survivors report moderate to severe fatigue.
Diagnosing Mitochondrial Diseases
Mitochondrial diseases are a group of disorders that arise as a result of poorly functioning mitochondria, which fail to produce sufficient energy for the body.
7 Dietary Tips For A Healthy Mitochondria
As the saying goes, "you are what you eat." Everything you consume has an impact on your well-being. Your dietary choices also showcase whether your efforts to support your mitochondria.