Fuel Your Day Your Way with Protein Boost
Whether you're a morning smoothie enthusiast, a post-workout shake lover, or a protein pancake pro, Protein Boost gives you the power to supercharge your day and live at peak performance one scoop at a time.
For even more recipe inspiration, follow us on Instagram, and be sure to share your delicious creations using #KPAXeats – let's blend, mix, and enjoy together!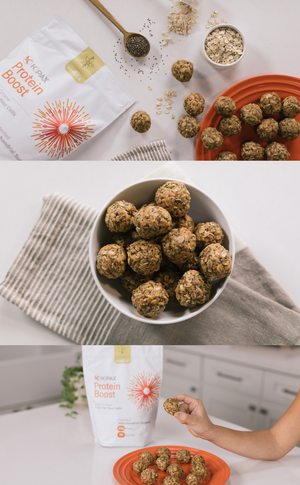 Vanilla Chia Protein Balls
Ingredients:
½ cup peanut butter
½ cup syrup
2 cups rolled oats
1 scoop of vanilla KPAX protein powder
¼ tsp salt
3 tbsp chia seeds
1/4 cup chocolate chips
Instructions:
Line a baking sheet with parchment and set aside
In a small pot over medium low heat, melt together the peanut butter and syrup, stirring frequently
In a large mixing bowl, stir together the oats, protein powder, salt, chocolate chips, and chia seeds
Once the peanut butter mixture is fully blended pour it over the oat mixture and stir well
Form into balls and leave at room temp to harden
Store in room temp or the fridge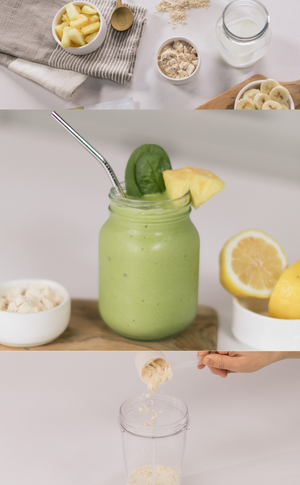 Green Immunity Smoothie
Ingredients:
1 Banana, frozen ripe
1 knob Ginger, fresh
1 cup Pineapple, frozen
2 cups Spinach, organic
1/2 cup Almond milk
1 scoop of vanilla protein powder
Lemon juice
Instructions:
In a blender, combine all ingredients
Blend on high speed until fully mixed
If needed, add a splash more of almond milk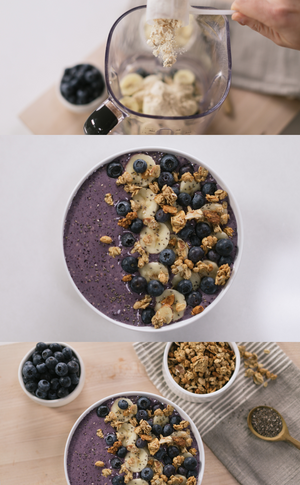 Berry Smoothie Bowl
Ingredients:
Smoothie base:
3 Bananas, frozen
1 cup Blueberries, frozen
1 scoop of protein powder
2/3 cup milk
Toppings:
Blueberries
Bananas
Chia seeds
Granola
Instructions:
Combine the smoothie base ingredients in a blender and blend on high speed until smooth
Remove from blender and pour into a bowl to serve
Top with the suggested toppings or toppings of your choice and enjoy!